Deciding on wedding day hairstyles for bridesmaids at Spoil Me Hair salon in Inverurie Aberdeen
What Wedding day hairstyle should I choose for my bridesmaids?
Before the big day it's a good idea for you and your bridesmaids to visit the salon and have a wedding hair trial to try out different bridal looks.
It's the ideal opportunity to get creative and play around with hairstyling ideas. At our Inverurie hair salon we will inspire you with beautiful wedding & bridal hairstyles that will get you looking and feeling a million dollars.
Bring along your mood board and any hair accessories you would like to have added to the hair. It's a good idea to bring along pictures and show us any wedding hairstyles that you and your bridesmaids do and don't like and we can suggest hairstyles that will best complement your personal style.
Top curly wedding day hairstyles for bridesmaids
Curly hairstyles for bridesmaids are a great way to achieve a modern wedding day look that can be personalised to each bridesmaid – a great idea if your bridesmaids vary in age or if one wants corkscrew curls while the other wants girly, romantic waves!
At our Inverurie hair salon we can create relaxed boho waves, tousled beachy bridal looks, as well as the popular 'half up half down' that looks gorgeous on curly hair.
Plaited, braided and twisted wedding hair styles for bridesmaids
Easily incorporated into any wedding day hair style this young and fun wedding hairstyling technique can achieve a variety of looks. From chunky festival inspired fish tail plaits to soft delicate whimsical twists your bridesmaids will look and feel every inch the princess.
So if your chosen wedding day hair look is elegant and fuss-free, try a pretty braided or plaited hairstyle and maybe top it off with a sparkly hair accessory.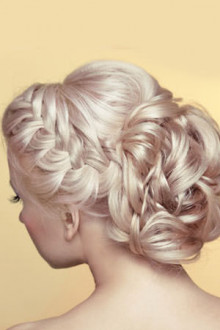 Sophisticated ballerina style bun hairstyling ideas for bridesmaids
There's much to love about this wedding day hair style! The bun hairstyle can be worn undone, textured and messy or sleek and elegant for a sophisticated wedding day hair look.
A super versatile hairstyle that is perfect for bridesmaids and can be worn low in the nape of the neck or piled high on the crown for that perfect ballerina style bun. Try adding fresh flowers or a pretty ribbon to your bridal hair that incorporates the style and theme of the wedding.
Stunning hair up wedding hairstyle for bridesmaids
A hair up hairstyle is a great practical wedding day look that does not need to be overly set and look super polished.
Popular hair up styles for bridesmaids can include braided loose up do's that are cool and stylish as well as messy chignons. Maybe let strands of hair fall loose for that effortlessly chic wedding day hairstyle.
Wedding day hair extensions at top Inverurie hair salon
Hair extensions are a brilliant addition to any wedding day hairstyle that can quickly and easily add length and volume. If any of your bridesmaids have fine, limp hair then our hair extension specialists at our hairdressing salon in Inverurie can instantly add thickness helping to create the perfect wedding day hairstyle.
At Spoil Me Hair we use Racoon International hair extensions to give you soft, glossy natural looking hair.
Book your bridesmaids wedding day hair appointment at Spoil Me Hair salon in Inverurie
Call 01467 624880 to book your wedding day hair appointment from the expert bridal hair specialist in our Inverurie hair salon. Or if you would like to book a wedding day hair trial then pop in and talk to one of our friendly team.
Don't forget to look at our amazing offers page, where you can get discounted hair appointments including an incredible 50% OFF a cut and finish for you and a friend when you recommend them to visit Spoil Me Hair.
---